1,200 firearms on display
Opened July 4, 1905
Rock Island, Illinois
The Rock Island Arsenal Museum is located on the Rock Island Arsenal, an island in the Mississippi River near Rock Island, Illinois. The museum's collection includes over 1,500 weapons and related artifacts, as well as historical documents, photographs, and other materials related to the history of the Rock Island Arsenal and the military in general.
The museum traces its history back to the late 19th century, when the Arsenal was still an active military installation. In 1905, a small museum was established on the Arsenal to display weapons and other artifacts, and this museum gradually expanded over the years.
Today, the Rock Island Arsenal Museum is open to the public and admission is free. Visitors can explore exhibits on the history of the Arsenal, including displays on the weapons and equipment produced there, the role of the Arsenal in various conflicts, and the daily life of soldiers and civilians who lived and worked on the island.
In addition to its exhibits, the museum offers educational programs for students and adults, including guided tours, lectures, and workshops. The museum is also home to a research library and archives, which contains a wealth of historical materials related to the Arsenal and the military.
2nd oldest U.S. Army Museum (West Point is 1st)
946-acre
FREE to visit
Open Tuesday – Saturday / noon to 4 pmA

---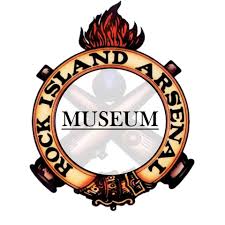 Rock Island Arsenal Museum
1 Rock Island Arsenal
Building 60
Rock Island, IL 61299-5000
(309) 782-5021
http://www.arsenalhistoricalsociety.org/museum/
(Visited 63 times, 1 visits today)