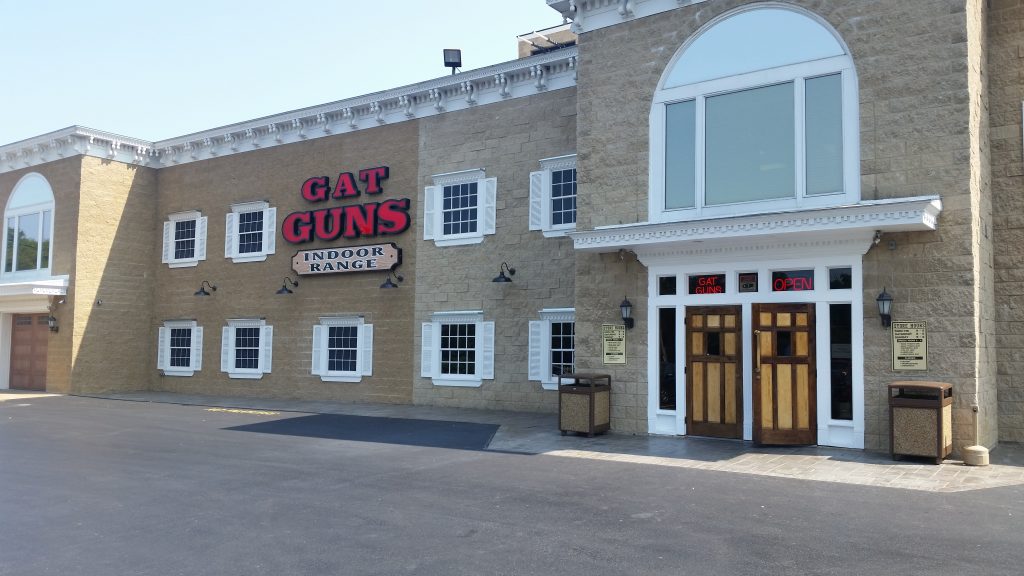 https://www.youtube.com/watch?v=rd4m1gOF73c
GAT GUNS has public indoor pistol and rifle ranges.
970 Dundee Avenue
East Dundee, IL 60118
(847) 428-4867
Pistol – 24 lanes at 25 yards.
Rifle – 14 lanes at 50 yards and 14 lanes at 75 yards
GAT GUNS serves North Eastern Illinois communities for sport shooters and hunters by providing a large selection of firearms, ammunition, accessories, and training. Our professional staff collectively has over a hundred years of experience in different disciplines of sport shooting.
GAT Guns strives to make our customers safe, responsible, educated shooters.
GAT GUNS was founded in 1979 by Gregory A. Tropino, GAT are his initials. Greg had a longtime interest in guns, hunting, and shooting. He was a competitor in BullsEye Pistol for many years. The first location was in Hanover Park Illinois, where Greg bought out a small store called Hazels' Gun Shop. In 1989, Greg moved the store to its current location. He bought a building that was once a restaurant called Aunt Kate Fischer's. Greg added the three eight position pistol ranges by adding on to the building. On the second floor he added the archery department with an indoor archery range. Inside the main entrance was the fishing department and ammo sales area and access to the range.
After more than a year of planning, 2012 brought a new level of expansion as construction began on the new addition which would more than double the size of the building. The new addition houses five new ranges; two 50 yard and two 75 yard indoor high power rifle ranges with seven shooting points in each range and an eleven position dedicated training range. The total number of shooting points in the facility is 63, making it the largest privately owned indoor shooting facility in the country. GAT's training facility, with a classroom which can hold 100 people or be split into two rooms, holds classes for beginners as well as advanced shooters. On the first floor in the front is a new receiving/shipping and storage area. GAT has an elevator for access to the second floor for customers with special needs.
The parking lot has more than doubled and has lighting and security. https://www.gatguns.com
One of the stops on the Gun Show Loophole Tour
Cool Gun Stuff Across the USA
http://gunshowloopholetour.com/
Support the Gun Show Loophole Tour 2017
https://www.patreon.com/GunWebsites
Gun Websites.com
http://GunWebsites.com ———————————-
Gun Channels
http://www.GunChannels.com
---
One of the Gun Shops that started my interest in firearms was GAT guns (in their old location, Hazels' Gun Shop? under a shopping center)
@GATGuns
It was AWESOME to go there on a Saturday, head down that flight of stairs and through the doors into a whole different world.
Every square inch of their store was full of merchandise, every counter was full, every shelf behind the counter was overflowing with cool stuff
There was new, there was old, there was ancient, there was stuff they probably forgot about
I bought my Rambo knife there, i shot my first explosive target downstairs. Coutless first guns shot in that dark, crowded, 1970s era indoor range. And it was under a shopping center.. so cool
I enjoyed it all, every time, I looked forward to each visit and I've compared every gun shop I've experienced since, with those early memories
At some point they moved to this new location. And I was able to buy my first shotgun here. The one and only time I had to buy a firearm with a 10-day waiting period
Now each time I visit the area, I try to stop by, and see how they're growing, and developing as a store
I'm impressed with their selection as well as their layout. And I continue to be impressed by the courteousness and knowledge of their staff
When I visit a shop I keep my ears open and my eyes open and I notice how employees interact with their customers. GAT does it right
If you ever get a chance to visit this shop, I highly recommend it
This visit, I found out they have their own logo patches!!!
So, of course, I bought a bunch to send out to the people who support our projects on patreon
THANK YOU
Looking forward to my next visit to GAT already
Thanks to @GATGunsInc for inspiring me, and countless others, on their Journey to the Second Amendment
#GunShowLoopholeTour
#GunShopLife
#IllinoisGunShop
(Visited 965 times, 1 visits today)